The City of North Miami hosts Moonlight and Marshamallows, a chance to learn about the heavens as well as earthly creatures who come out after dark. Weather pe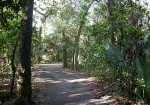 rmitting, it happens from 6 to 9 p.m. on Friday, Dec. 9.
There will also be a raffle for a telescope. You're urged to come early; park gates will close at 6:30 p.m. or when there are 50 participants, whichever comes first. The cost is $4 for everyone older than 3. Head to Enchanted Forest Elaine Gordon Park, 1725 NE 135 St., North Miami.