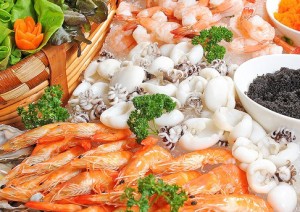 The Hess Select South Beach Seafood Fest is an all-day event Oct. 19 in South Beach, with chefs of 10 restaurants offering tastings of their best seafood dishes and more, as a kickoff to stone crab season. Admission prices are $25 for general admission and $150 for VIP tickets.
We've found a ways to eat all that seafood less.
With a deal from Travelzoo, two can attend for the price of one, or $25. Or, four can go for $49. Gilt City is offering a deal for four tickets for $20, but that one is likely to go fast.
The event, in Lummus Park at Ninth and Ocean Drive, will include custom cocktails, culinary demonstrations and even a kids' zone. (Kids 10 and under can attend free.)
Get discount tickets to the Hess Select South Beach Seafood Festival from Travelzoo here.
Gilt City is offering three deals:
And, Living Social is also offering the deal for two tickets for $25.