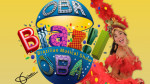 GoldStar is offering up to 52% discount to the Oba Brazil Oba show at the Colony Theatre. The show takes place on Saturday, October 27 at 7 p.m. Full price: $25 – $40. GoldStar price: $12 – $20, plus $4-$5 in service fees.
From Southern Brazil's Milongas to the Northeast's Lambada and everything in between, the 30 performers and singers of Oba Brazil Oba take you on a joyful musical trip through the entire country, celebrating all of its regional rhythms, dance, music and color.
Colony Theatre,1040 Lincoln Rd. Miami Beach, 33139.