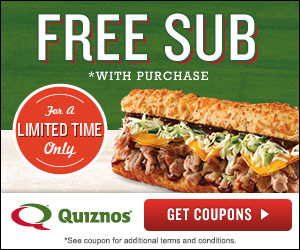 As you're out and about, you may want to stop for a quick meal. Here are five Quiznos coupons:
Free sub  with purchase of a sub and regular fountain drink
$5 small combo
$1 a regular sub or large salad or $2 off a large sub
$1 off Toasty pastas
Free chips and regular fountain drink with the purchase of a regular sub, large sub or large salad.
You can download all five Quiznos coupons here. The coupons are good through May 29.
Tell Your Friends