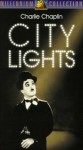 The Miami Jazz Society Film Series is screening free silent movies on January 1, 2013. First film starts at 6:15 p.m. Reception with cash bar and snacks is held from 5 p.m. to 6 p.m.
The General (1926) When Union spies steal an engineer's beloved locomotive, he pursues it single handedly and straight through enemy lines. (Buster Keaton silent film)
Safety Last! (1923) When a store clerk organizes a contest to climb the outside of a tall building, circumstances force him to make the perilous climb himself. (Harold Lloyd silent film)
* The Kid (1921) The Tramp cares for an abandoned child, but events put that relationship in jeopardy.
* The Circus (1928) The Tramp finds work and the girl of his dreams at a circus
* City Lights (1931) The Tramp struggles to help a blind flower girl he has fallen in love with.
*(Charlie Chaplin silent films)
Miami Tower, 100 SE 2nd St, 19th Floor Auditorium, Downtown Miami, 33131