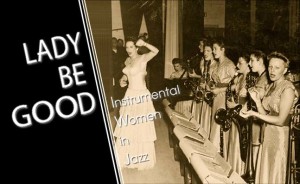 The Miami Jazz Society will present a free film Lady Be Good: Instrumental Women in Jazz on Tuesday, Feb. 5, 6:15-7:15 p.m. Reception with cash bar & food from 5-6 p.m.
Lady Be Good documents the important stories and history of women jazz musicians.
The film focuses on women who played jazz during decades when to be a woman in jazz was to be truly an exception.
Their presence constituted a rebuttal to the argument that women cannot and should not play most instruments.
The film will be held at the Miami Tower, 19th Floor Auditorium, 100 SE 2nd St., Miami. 33131. For more information, call 305-684-4564, email miamijazzsociety@gmail.com or visit www.miamijazzsociety.com