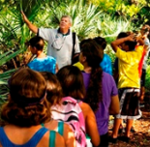 Affordable and adventure-filled activities are being offered at Miami- Dade County Parks Winter Break Camps. Registration is now open. Camps will be held December 24, 2012 through January 4, 2013 (closed Christmas/New Year's Day), Monday through Friday, from 9 a.m. to 5 p.m., with early drop-off available at 7:30 a.m. and late pick-up until 6 p.m.
General Camp programs offer a variety of activities from fitness, sports, and arts and crafts to games and exciting field trips. There are also Specialized Camps, which focus on a specific interest or need, including camps for nature and wildlife-lovers like Zoo Miami's "Winter Break Daze" Camp and EcoAdventures Camps and; the Country Club of Miami's Junior Golf Camp; and camp programs for youth with disabilities.
Parents may register their child by visiting the specific Miami-Dade County Park where they wish their child to attend. Some parks offer online registration at Miami-Dade Parks, where the entire list of camp sites is also found. The public may also dial 311 for the Miami-Dade County Information Hotline. Prices for camps vary. The cost for these camps is $40 – $90/week, depending on the program. Financial assistance is available to those who qualify.
Tell Your Friends