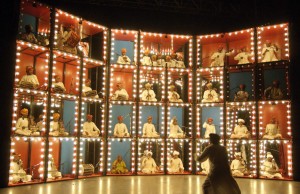 The Manganiyar Seduction has given music a new shape, as nearly 40 musicians sit in light boxes four stories high, giving the appearance of an Indian orchestra in a giant Hollywood Squares set. You can read what The Miami Herald wrote about it here.
The orchestra from northern Indian, descended from an ancient caste of singers and instrumentalists, is performing Friday, Nov. 8, in Miami.
Regular-price tickets are $50 and $30. With a deal from Goldstar, y0u can see the concert for $31 to $19.50, all fees included.
The performance is at 2901 W Flagler Street, Miami, FL 33135. Phone: 305-547-5414.
Get discount tickets to the Manganiyar Seduction orchestra concert here.