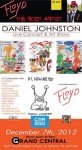 During Art Basel week experience a live music performance by Daniel Johnston and an art show by a select group of Miami artists, including Floyd the Artist. The performance will take place on December 7. Doors open at 9 p.m. Tickets range from $10 to $20.
Daniel Johnston is a singer, songwriter, musician and artist. Kurt Cobain  wore a t-shirt with artwork from his album cover on several interviews. He was also the subject of a 2006 documentary called The Devil and Daniel Johnston profiling his music and art career and his bipolar disorder.
Floyd the Artist is an outsider artist who paints alongside a musical performance.
Grand Central, 697 N Miami Ave, Miami, 33136
Tell Your Friends