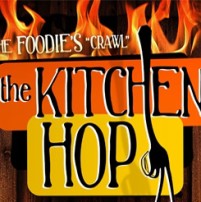 Try 11 dishes from 11 restaurants during The Kitchen Hop, a foodie crawl on Saturday, June 28, from 3-7 p.m. around Mary Brickell Village. We've found a lot of ways to can do it for 50% off, which means $18 instead of $36.
Spend the afternoon sampling bites from the best spots including:
Thai Wings from OTC Brickell
Mac Attack from Batch Gastropub
Croquettes from Dolores But You can Call Me Lolita
Tuna Tataki from Oceanaire Seafood Room
Chicken and pork tacos from La Mexicana Brickell
Vintage chocolate mousse with hazelnut pearls from La Gazzetta
Indo noodles with grouper bites from Balans
Cinquecento from Gelato
Temaris from Brickell Sushi Rolls
A variety of Italian bites from Piola
Plus, attendees receive one complimentary at the After Party at Blue Martini in Mary Brickell Village as well as $3 Modelo beers and $5 cocktail specials at most of the stops. Mary Brickell Village is at 900-901 S. Miami Ave.
Here are the ways you can get 50% off The Kitchen Hop:
Find more deals on South Florida festivals.
Tell Your Friends