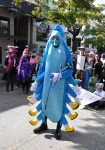 The free King Mango Strut Parade takes place on Sunday, December 30 at 2 p.m. in Downtown Coconut Grove. The off-beat parade pokes fun at everything and anyone.
The parade parodies international and local events in the last year and pushes the envelope of good taste, in all good fun.
Parade Route The strut route begins at the corner of Commodore Plaza and Main Highway. It turns left onto Main Highway and then turns left onto Grand Avenue at CocoWalk and turns left again at Commodore Plaza.
Parking (map) There is parking a block away from the parade route at the Municipal Garage at Oak Avenue and Mary Street, as well as CocoWalk, Mayfair, Coconut Grove Playhouse, St. Stephens Episcopal Church, and Coconut Grove Elementary School. For more information, call (305) 582-0955 visit kingmangostrut.org