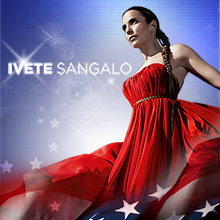 Here's a chance to see Ivete Sangalo, the most popular woman in Brazilian pop music, at a discount during her Miami tour.
Sangalo is bringing her Real Fantasia tour to the American Airlines Arena at 8 p.m. on Sunday, Aug. 18. The former Banda Eva lead singer began her solo career in 1999, and since then, she's released 10 albums, selling more than 15 million CDs and DVDs around the world. A native of Bahia, she is known as the "Queen of Carnaval" in Salvador. Her latest recordings are the best-selling 2012 Real Fantasia and the 2010 CD and DVD Multishow Live – Ivete Sangalo at Madison Square Garden.
Regular price for tickets in this section is $49.50. But with a deal from Goldstar, you can see the show for $26, including fees.
This deal is good through 11 a.m. Sunday, Aug. 18, or until it sells out, whichever comes first.
Get discounted tickets to Ivete Sangalo here.