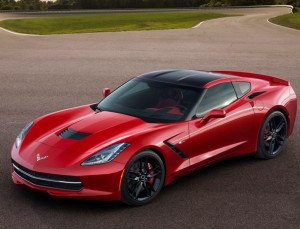 The 43nd Miami International Auto Show runs Nov. 8-17,2013, at the Miami Beach Convention Center. Hundreds of vehicles will be on display.  Cars, trucks, vans, sport utility vehicles, hybrids and concept cars exhibited by the world's leading automotive manufacturers.
Visitors can see the all-new 2015 Cadillac Escalade and the Maserati 2014 Ghibli sedan.  The official show car is a 2014 Corvette Stingray (photo).
Regular admission is $12 for adults and $6 for children 6-12. We've found these discounts:
$2 off with coupons available from South Florida McDonald's restaurants and new or used auto and truck dealers.
$2 off for signing up for email updates at the event website. Scroll down the page to see this option. You'll get your coupon via email.
50% off two tickets from Groupon to see the show during the week, Nov. 12-14. This deal is scheduled to expire at midnight on Monday, Nov. 4.
50% one ticket from Miami Herald DealSaver to attend the show Nov. 12-14. This deal is good through midnight, Nov. 13.