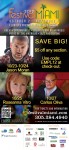 Festival Miami is offering a deal for tree upcoming concerts –Get $5 off your using the promo code EMPL12 at check-out.
Festival Miami presents between 25 to 30 concerts, master classes, and lectures over a five-week period.
Each event falls under one of the four themes: "Great Performances," "Jazz and Beyond," "Creative American Music," and "Music of the Americas." For tickets, call (305) 284-4940  or visit FestivalMiami.com Festival Miami concerts take place at the University of Miami, Gusman Concert Hall, 1314 Miller Drive, Coral Gables, 33146.
Jason Moran & The Bandwagon—Cross-Genre Jazz at Its Best
October 24 at 8 p.m.
Jason Moran is a pianist, composer, and bandleader he mines a variety of musical styles to create adventurous jazz performances, blending classical, blues, and jazz techniques with the musical influences of his generation, including funk, hip-hop, and rock.
Jazz Vocalist Roseanna Vitro and JV1—Free-Spirited Spontaneity
October 25 at 8 p.m.
Roseanna Vitro, vocals
Frost Jazz Vocal 1 Ensemble (JV1)
Larry Lapin, director
Jazz vocalist Roseanna Vitro performs highlights from her Grammy nominated CD The Music of Randy Newman, as well as jazz and Brazilian-infused hits such as "I Just Need Your Kisses (Ai, Ai, Ai)" and "Tropical Postcards," as well as "One Mint Julip" from her Ray Charles tribute album Catchin' Some Rays.
Carlos Oliva y Los Sobrinos del Juez—Latin Fusion Artists Keep on Grooving
October 27 at 8 p.m.
Carlos Oliva y Los Sobrinos del Juez ("The Judge's Nephews"), credited by Time magazine as the innovators of the "Miami Sound," perform an exciting fusion of Cuban music, salsa, Afro beats, samba, jazz and rock.