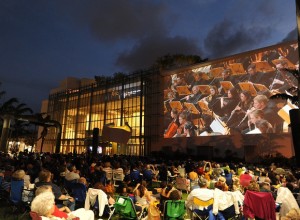 You can experience the New World Symphony performances larger than life in free outdoor Wallcast concerts. Miami Beach's SoundScape features the latest in visual and audio technology on a 7,000-square-foot projection wall. Wallcast events are free to the public and do not require a ticket.
According to the New World Symphony Facebook page, patrons also can visit the NWS table outside the box office before the show to sign up to be seated inside if space is availabe.
Miami Beach Exostage is at SoundScape, 500 17 St., Miami Beach.
Here's the schedule for this season:
Sat., Oct. 5
7:30 PM
A Gershwin Opening
Fri., Oct. 25
7:30 PM
Beethoven and Schumann
Sat., Nov. 23
7:30 PM
Sibelius 2
Sat., Dec. 7
7:30 PM
Birds on a Wire
Sat., Dec. 14
7:30 PM
Tristan and Isolde:
An Orchestral Adventure
Sat., Dec. 21
7:30 PM
Holiday Concert
Sat., Feb. 1
7:30 PM
A Tchaikovsky Celebration with MTT
Sat., Mar. 1
7:30 PM
An Antiphonal Journey:
Mozart and Vivaldi
Sat., Mar. 22
8:00 PM
Shostakovich: The Monumental Tenth
Fri., Mar. 28
8:00 PM
Ohlsson Plays Rachmaninoff
Sat., Apr. 12
8:00 PM
Concerto Showcase
Sat., May 3
8:00 PM
The Mahler Legacy: 7