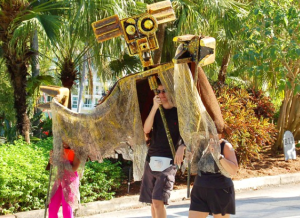 The South Beach Chamber Ensemble and puppet designer Jim Hammond will join with Miami Beach Senior High's Academy of Visiaul and Performing Arts to present a free show called "Fantasma," filled with immense puppets and spooky tunes.
The performance will be at 6 p.m. Sunday, Sept. 22, on Lincoln Road's outdoor stage in the 1100 block. If it rains, it will move into Miami Beach Community Church, 1620 Drexel Ave.
This is the description of the event:
Close your eyes. You hear a live string quartet playing haunting music. From the shadows, a ghostlike (yet adorable) creature wanders in, embarking on a scary journey led by a canine companion. She interacts with the musicians, the audience and you. This endearing phantom creature is on a quest to challenge her fears and test her might against huge beings… A giant Cat – A Bat – A Robot – A Swamp Thing… other Ghosts and more. Each step reveals a discovery that brings her closer to understanding her fears, her hopes and… Herself.
Seating is limited, and the artists are seeking funding at Kickstarter.