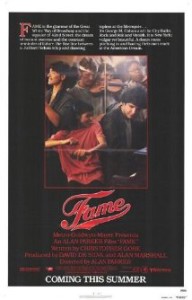 Miami Tower Film Series presented by the Miami Jazz Society will screen films about jazz and dance on Tuesday, April 9. Reception with snacks & beverages from 5 p.m. to 6:15 p.m.
A Great Day in Harlem, 6:15 p.m to 7:15 p.m.
The Making of Kind of Blue, 7:15 p.m. to 8:45 p.m.
Fame (YouTube video), 8:45 p.m. to 11 p.m.
This hour-long documentary a moment in the history of jazz in 1958 when dozens of America's jazz legends unexpectedly gathered together in Harlem, New York City, for a photograph that would become emblematic of the golden age of jazz.
 The Making of Kind of Blue
Miles Davis's Kind of Blue has been hailed as a jazz classic for over 40 years. It remains one of the bestselling jazz album of all time.
Set at New York's High School of Performing Arts, where talented teens train for show-business careers, this film concentrates on five of the most gifted students and two its teachers. The score for the film version of Fame was honored with an Academy Award.
The films will be screened at the Miami Tower, 19th floor auditorium, 100 Southeast 2nd Street, Miami, 33131. Metromover station is the Knight Center. If you are parking at the Miami Tower after 6 p.m. Monday-Friday, parking is $1 an hour, $5 maximum.