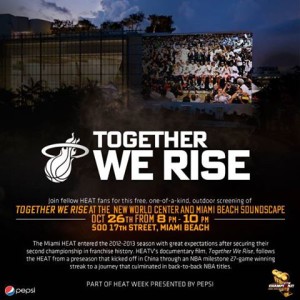 You can see the Miami Heat larger than life on Saturday night during a free screening of "Together We Rise," HEATV's documentary about the basketball team's 2012-2013 journey from preseason games in China to an NBA title.
The free movie will be at 8 p.m. Saturday, Oct. 26, at the 7,000-square-foot outdoor Exostage @ Miami Beach SoundScape, 500 17 Street.
Fans are encouraged to bring blankets, chairs and snacks.