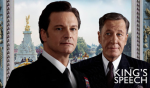 See a free screening of The King's Speech at Bal Harbour Beach on Jan. 19 at 8 p.m.  The event features free popcorn, plush couches, cozy pillows and ocean breezes.
Public Parking will be available at the municipal lot beneath Halouver bridge or valet parking will be available at ONE Bal Harbour Resort & Spa.
This week's feature is The King's Speech. The story of King George VI of Britain, his impromptu ascension to the throne and the speech therapist who helped the unsure monarch become worthy of it.
Bal Harbour Beach behind ONE Bal Harbour Resort & Spa