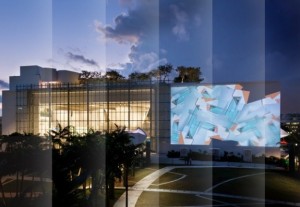 The SoundScape Cinema Series screens free films on the 7,000-square-foot outdoor projection wall at the New World Center's ExoStage, corner of 17th Street and Washington Avenue, Miami Beach. Movies usually are at 8 p.m. on Wednesdays but there are also some films on Thursday.
Film schedule for 2014-2015:
Wednesday, Oct. 1: CAPTAIN AMERICA: THE WINTER SOLDIER (2014) Directed by Anthony Russo, Joe Russo; with Chris Evans, Samuel L. Jackson, Scarlett Johansson.
Thursday, Oct. 2: DUNE (1984) Directed by David Lynch; with Kyle MacLachlan, Virginia Madsen, Sting, Brad Dourif, Jose Ferrer, Linda Hunt, Virginia Madsen, Silvana Mangano
Wednesday, Oct. 8: STEP UP REVOLUTION (2012) Directed by Scott Speer; with Kathryn McCormick, Ryan Guzman
Thursday, Oct. 9: TO CATCH A THIEF (1955) Directed by Alfred Hitchcock; with Cary Grant, Grace Kelly, Jessie Royce Landis, John Williams
Wednesday, Oct. 15: WHO FRAMED ROGER RABBIT? (1988) Directed by Robert Zemeckis; with Bob Hoskins, Christopher Lloyd, Joanna Cassidy
Wednesday, Oct. 22: THE FAULT IN OUR STARS (2014) Directed by Josh Boone; with Shailene Woodley, Ansel Elgort, Nat Wolff, Laura Dern, Willem Dafoe
Wednesday, Oct. 29: THE BIRDS (1963) Directed by Alfred Hitchcock; with Rod Taylor, Tippi Hedren, Suzanne Pleshette
Wednesday, Nov. 5: X-MEN: DAYS OF FUTURE PAST (2014) Directed by Bryan Singer; with Patrick Stewart, Ian McKellan, Hugh Jackman, Jennifer Lawrence, Halle Berry
Thursday, Nov. 6: THE STING (1973) Directed by George Roy Hill; with Paul Newman, Robert Redford, Robert Shaw, Eileen Brennan
Wednesday, Nov. 12: MALEFICENT (2014) Directed by Robert Stromberg; with Angelina Jolie, Elle Fanning, Sharlto Copley
Thursday, Nov. 13: OCEAN'S TWELVE (2004) Directed by Steven Soderbergh; with George Clooney, Brad Pitt, Julia Roberts, Matt Damon, Catherine Zeta-Jones
Wednesday, Nov. 19: PILLOW TALK (1959) Directed by Michael Gordon; with Rock Hudson, Doris Day, Tony Randall, Thelma Ritter
Thursday, Nov. 20: GODZILLA (2014) Directed by Gareth Edwards; with Bryan Cranston, Aaron Taylor-Johnson, Elizabeth Olsen
Wednesday, Nov. 26: THE LEGO MOVIE (2014) Directed by Phil Lord, Christopher Miller; with Will Arnett, Elizabeth Banks, Will Forte, Morgan Freeman, Jonah Hill
Wednesday – Saturday, Dec. 3-6: Art Basel in Miami Beach will be presenting video and sound art.
Wednesday, Dec. 10: 2 FAST 2 FURIOUS (2003) Directed by John Singleton; with Paul Walker, Tyrese Gibson, Cole Hauser, Eva Mendes, Ludacris
Thursday, Dec. 11: CLEOPATRA (1963) Directed by Joseph L. Mankiewicz; with Elizabeth Taylor, Richard Burton, Rex Harrison
Wednesday, Dec. 17: THE OUTSIDERS (1983) Directed by Francis Ford Coppola; with Matt Dillon, Patrick Swayze, Rob Lowe, Tom Cruise, Emilio Estevez, Diane Lane, C. Thomas Howell
Thursday, Dec. 18: LAWRENCE OF ARABIA (1962) Directed by David Lean; with Peter O'Toole, Alec Guinness, Anthony Quinn, Omar Sharif, Jose Ferrer, Claude Rains
Wednesday, Dec. 24: DAWN OF THE PLANET OF THE APES (2014) Directed by Matt Reeves; with Gary Oldman, Keri Russell, Andy Serkis
Wednesday, Dec. 31: FROZEN (2013) Directed by Chris Buck, Jennifer Lee; with Kristen Bell, Idina Menzel, Jonathan Groff
Wednesday, Jan 7:  A HOLE IN THE HEAD (1959) Directed by Frank Capra; with Frank Sinatra, Edward  G. Robinson, Eleanor Parker, Carolyn Jones, Thelma Ritter
Wednesday, Jan. 14:  AUSTIN POWERS, INTERNATIONAL MAN OF MYSTERY (1997) Directed by Jay Roach; with Mike Myers, Elizabeth Hurley, Michael York
Wednesday, Jan. 21: BYE BYE BIRDIE (1963) Directed by George Sidney; with Dick Van Dyke, Ann-Margret, Janet Leigh, Paul Lynde, Bobby Rydell, Maureen Stapleton
Thursday, Jan. 22: ACE VENTURA, PET DETECTIVE (1994) Directed by Tom Shadyac; with Jim Carrey,  Courtney Cox, Sean Young
Wednesday, Jan. 28: STAR TREK: THE WRATH OF KHAN (1982) Directed by Nicholas Meyer; with William Shatner, Leonard Nimoy, DeForest Kelley, George Takei
Thursday, Jan. 29: SPECIAL EVENT: DEATH IN VENICE by Luchino Visconti. PAXy is celebrating its first "Are you cinematic?" event, with the support of Miami-Dade County Cultural Affairs and Miami Beach Cultural Affairs.
Wednesday, Feb. 4:  THE WIZ (1978) Directed by Sidney Lumet; with Diana Ross, Michael Jackson, Nipsey Russell, Lena Horne, Richard Pryor
Thursday, Feb. 5: NOTORIOUS (1946) Directed by Alfred Hitchcock; with Cary Grant, Ingrid Bergman, Claude Rains, Louis Calhern
Wednesday, Feb. 11: GUARDIANS OF THE GALAXY (2014) Directed by James Gunn; Chris Pratt, Vin Diesel, Bradley Cooper, Zoe Saldana
Thursday, Feb. 12: MIAMI RHAPSODY (1995) Directed by David Frankel; with Sarah Jessica Parker, Mia Farrow, Antonio Banderas, Naomi Campbell, Jeremy Piven
Wednesday, Feb. 18: A HARD DAY'S NIGHT (1964) Directed by Richard Lester; with the Beatles (John Lennon, Paul McCartney, George Harrison, Ringo Starr)
Wednesday, Feb 25: INTERSTELLAR (2014) Directed by Christopher Nolan; with Matthew McConaughey, Anne Hathaway, Jessica Chastain, Ellen Burstyn, John Lithgow, Michael Caine
Thursday, Feb. 26: WHATEVER HAPPENED TO BABY JANE (1962) Directed by Robert Aldrich; with Bette Davis, Joan Crawford, Victor Buono
Wednesday, March 4: GHOSTBUSTERS (1984) Directed by Ivan Reitman; with Bill Murray, Dan Ackroyd, Harold Ramis, Sigourney Weaver, Rick Moranis, Ernie Hudson
Thursday, March 5: GIANT (1956) Directed by George Stevens; with Elizabeth Taylor, Rock Hudson, James Dean, Carroll Baker, Dennis Hopper, Sal Mineo
Wednesday, March 11: THE HOBBIT: AN UNEXPECTED JOURNEY (2012) Directed by Peter Jackson; with Ian McKellen, Martin Freeman, Richard Armitage
Thursday, March 12: TRANSPORTER 2 (2005) Directed by Louis Leterrier; with Jason Statham, Amber Valletta, Matthew Modine, Alessandro Gassman, Kate Nauta
Wednesday , March 18: STRICTLY BALLROOM (1992) Directed by Baz Luhrmann; with Paul Mercurio, Tara Morice, Bill Hunter
Wednesday, March 25: DESPICABLE ME 2  (2013) Directed by Pierre Coffin, Chris Renaud; with Steve Carell, Kristen Wiig, Benjamin Bratt, Russell Brand
Wednesday, April 1: THE HUSTLER (1961) Directed by Robert Rossen; with Paul Newman, Jackie Gleason, Piper Laurie, George C. Scott
Wednesday, April 8: THE THEORY OF EVERYTHING (2014) Directed by James Marsh; with Eddie Redmayne, Felicity Jones, Tom Prior
Wednesday, April 15: CAR WASH (1976) Directed by Michael Schultz; with Richard Pryor, Franklyn Ajaye, the Pointer Sisters, George Carlin
Wednesday, April 29: ST. VINCENT (2014) Directed by Theodore Melfi; with Bill Murray, Naomi Watts, Melissa McCarthy, Terrance Howard, Chris O'Dowd
Wednesday, May 6: FLETCH (1985) Directed by Michael Ritchie; with Chevy Chase, Joe Don Baker, Kenneth Mars, Geena Davis, Dana Wheeler-Nicholson
Thursday , May 7: MEATBALLS (1979) Directed by Ivan Reitman; with Bill Murray, Harvey Atkin, Kate Lynch
Wednesday, May 13: THE HUNGER GAMES: MOCKINGJAY PART I (2014) Directed by Francis Lawrence; with Jennifer Lawrence, Josh Hutcherson, Liam Hemsworth, Woody Harrelson
Thursday, May 14: HUSH HUSH SWEET CHARLOTTE (1964) Directed by Robert Aldrich; with Bette Davis, Olivia de Havilland, Joseph Cotton, Agnes Moorhead, Bruce Dern
Wednesday, May 20: A LEAGUE OF THEIR OWN (1992) Directed by Penny Marshall; with Tom Hanks, Geena Davis, Madonna, Rosie O'Donnell
Thursday, May 21: ANNIE (2014) Directed by Will Gluck; with Jamie Foxx, Quvenzhane Wallis, Rose Byrne, Bobby Cannavale, Cameron Diaz
Wednesday, May 27: EXODUS: GODS AND KINGS (2014) Directed by Ridley Scott; with Christian Bale, Aaron Paul, Sigourney Weaver, Ben Kingsley, John Turturro
Thursday, May 28: UNCLE BUCK (1989) Directed by John Hughes; with John Candy, Macauley Culkin, Jean Louisa Kelly, Gaby Hoffmann, Amy Madigan.
Tell Your Friends