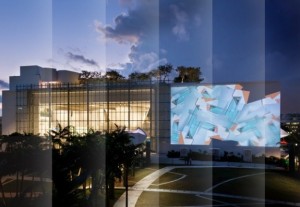 The SoundScape Cinema Series screens free films on the 7,000-square-foot outdoor projection wall at the New World Center's ExoStage, corner of 17th Street and Washington Avenue, Miami Beach. Movies usually are at 8 p.m. on Wednesdays.
Film schedule for 2016:
March 2: San Andreas (2015) Directed by Brad Peyton; with Dwayne Johnson and Carla Gugino.
March 9: Rent (2005) Directed by Chris Columbus; with Taye Diggs and Rosario Dawson.
March 16: Austin Powers in Goldmember (2002) Directed by Jay Roach; with Mike Myers, Beyonce Knowles and Seth Green.
March 23: Pirates of the Caribbean: On Stranger Tides (2011) Directed by Rob Marshall; with Johnny Depp, Penelope Cruz and Ian McShane.
March 30: Mission Impossible: Rogue Nation (2015) Directed by Christopher McQuarrie; with Tom Cruise, Jeremy Renner and Simon Pegg.
April 6: Niagara (1953) Directed by Henry Hathaway; with Marilyn Monroe and Joseph Cotton.
April 13: Hunger Games: Mockingjay Part 2 (2015) Directed by Francis Lawrence; with Jennifer Lawrence, Josh Hutcherson and Liam Hemsworth.
April 20: The Day After Tomorrow (2004) Directed by Roland Emmerich; with Dennis Quaid, Jake Gyllenhaal and Emmy Rossum.
April 27: What Lies Beneath (2000) Directed by Robert Zemeckis; with Harrison Ford and Michelle Pfeiffer.
May 4: Ant-Man (2015) Directed by Peyton Reed; with Paul Rudd and Michael Douglas.
May 11: Little Fockers (2010) Directed by Paul Weitz; with Ben Stiller, Robert DeNiro, Dustin Hoffman and Barbra Streisand.
May 18: Forrest Gump (1994) Directed by Robert Zemeckis; with Tom Hanks and Robin Wright.
May 25: Independence Day (1996) Directed by Roland Emmerich; with Will Smith, Bill Pullman and Jeff Goldblum.
*Schedule subject to change