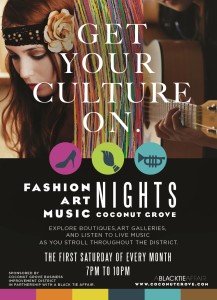 Get your fill of cultural fun during the return of F.A.M. (Fashion Arts Music) night on the first Saturday of the month in Coconut Grove along Grand Avenue, Commodore Plaza, Main Highway and Fuller Street from 7 to 10 p.m.
In addition to the Gallery Art Walk, F.A.M. Night affords visitors entertainment and shopping, with more than 20 boutiques, art galleries and musicians participating.
F.A.M. and the annual Fete de la Musique Coconut Grove will join forces Saturday, June 7, for the last F.A.M. night of the season.
Fete de la Musique Coconut Grove, usually on June 21, changed the date this year to be part of F.A.M. night.
Musicians will include Three Sheets to the Wind at The Bookstore in the Grove, Wynwood Walls at Vino's in the Grove and Orange Flight outside Detlev Salon.
F.A.M. participants include:
Academy of Arts & Minds, which will cover all facets of fashion, art and music by showcasing its latest fashion photo shoot, a live performance by the Jazz Band & Voices, and a gallery of artwork.
Design Bar, a home décor boutique, will feature The Oliver Gal Artist Co. – spearheaded by a sister duo ­– inspired by the Miami art scene and by photography from their travels around the world.
Reopening of the CGAF gallery, with a historic photography exhibit by Cathryn Griffith, Havana Revisited: An Architectural Heritage.
Musician Pino Grillo.
Additional participants are Blue Moon Studio, CocoWalk, The Bookstore in the Grove, Coconut Grove Arts Festival, Nikki's Beachhouse, Ramona LaRue by Arianne, & Taurus in the Grove.
Call 305-461-5506 for information.