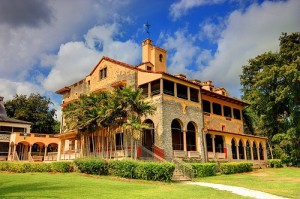 Do your part to learn about and begin practicing sustainability practices by attending the monthly Speaking Sustainably lecture series at the Deering Estate at Cutler, 16701 SW 72 Ave. The talks are at 7 p.m. on Wednesdays.
Here is the schedule:
Jan. 22: Dr. John Withey, assistant professor at the FIU Department of Biological Sciences, discusses "Urban Environments: A Bird's Eye View" about the ecological value parks and reserves and how better design can create urban environments that benefit both human and natural systems.
Feb. 13: Joshua Marano, archaeological intern with the American Conservation Experience at Biscayne National Park, discusses "Archaeology Close to Home — Biscayne National Park Updates: Maritime Archaeology & Totten Key After Hurricane Sandy."
Feb. 26: Dr. Kenneth Feeley, of the same department at FIU, covers "Global Climate Change and Tropical Forests: Adapt, Migrate or Die" and how migration may be the only option left for tropical tree species, the realities of climate change and deforestation and how we as a society can make better decisions to protect what remains.
March 19: Dr. Ligia Collado-Vides, a lecturer and researcher from the same FIU department, discusses "Macroalgae: Hidden Colors of the Sea" and her research on the shift from coral and sea grass-dominated communities to microalgae dominated ones.
April 23: Dr. Tabetha Cale, Everglades policy associate at Audubon Florida, on "Restoring the River of Grass."
May 28: Dr. Deron Burkepile, assistant professor at FIU's Department of Biological Sciences, talks about "Striking a Balance: The Future of Coral Reef Ecosystems."
For more information on the series call 305-235-1668.
Tell Your Friends