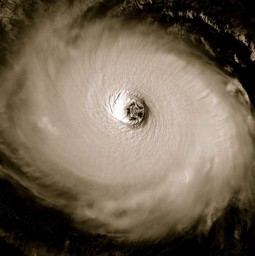 Florida International University's International Hurricane Research Center and Miami-Dade County Emergency Management Department have joined forces with the Miami Science Museum to offer a day of hurricane preparation activities for families on Saturday, June 1, with free admission all day to the Miami Science Museum.
Activities for adults and children will include:
Talks by Max Mayfield, former director of NOAA's National Hurricane Center; and Curt Sommerhoff, assistant director at Miami-Dade County Emergency Management.
Radio Disney at the museum (1 to 3 p.m.).
Ron Miguel and Miami Herald photographers talking about the story behind the  photos of Hurricane Andrew.
A chance to meet a hurricane hunter at the museum's P-3 cockpit and learn what it's like to fly into a storm! (AOML – Hurricane Research Division).
An opportuntity to play meteorologist at the museum's TV weather studio.
Miami-Dade Public Library interactive story time.
Weather story videos from Hurricane Andrew.
Special wildlife encounters on weather preparedness.
Learning about preparing for severe storms with the National Weather Service, Miami-Dade Fire Rescue, the Salvation Army, Smokey the Bear and FIU Roary, Venom 1, and more.