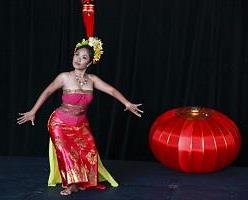 The Confucius Institute at Miami Dade College will hold a free Harvest Moon Festival with a public ceremony honoring Confucius on Saturday, Sept. 14, from 1:30 p.m. to 8 p.m. at the College's North Campus. Festivities will include a discussion forum, an award ceremony, Chinese refreshments and performances featuring traditional Chinese music, folk singing, dancing, a fashion show and other activities. The event is free and open to the public.
The Harvest Moon Festival, one of the two most important Chinese holidays, is the annual "family reunion day" in which Chinese families and friends gather to admire the bright, full harvest moon and share traditional meals, which include moon cakes.
Here is the schedule of events:
Guest Lecture on Confucius and his Legacy: 1:30 to 3 p.m. Professor Xianglin Kong, secretary-general of the World Confucius Conference in Beijing and a 75th-generation descendant of Confucius, will discuss the philosopher's achievements and influence.
Commemoration of Confucius and Cultural Celebration: 4 to 7 p.m. Activities will include a commemoration ceremony of Confucius' birthday, an award presentation to outstanding Chinese language teachers and students, and Chinese cultural performances: singing, dancing, musical performances and fashion show
 Chinese Calligraphy, "Talking Poster" Demonstration & Chinese Refreshments, including mooncakes: 7 to 8 p.m.
The Harvest Moon celebration is organized by the Florida Shandong Fellowship Association, in collaboration with the Student Life Department at MDC's North Campus, the Florida Guangdong Fellowship Association, and US Shandong Fellowship Association Education Fund.
The events will be at the MDC North Campus, Lehman Theatre (Building 5), 11380 NW 27th Ave., Miami.
For more information, contact Dr. Xuejun (Jim) Yu at 305- 237-7581 or xyu@mdc.edu.