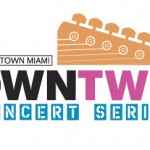 The DWNTWN Miami Concert Series returns to the city on Friday, Oct. 8.
The season's first show features City of God and Lanzallamas Monofonica.
The free show starts at 5:30 p.m. at Bayfront Park, in Miami.
If you show up with four friends, head over to the DDA booth and pick up a free DWNTWN umbrella or backpack.
Other free shows are Nov. 12, Jan. 14, Feb. 11, March 11 and April 8.