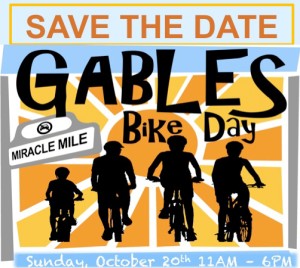 Coral Gables will turn Miracle Mile into a giant street festival Sunday, Oct. 20, to celebrate Gables Bike Day, organized by Bike Walk Coral Gables and presented by the Downtown Coral Gables and Miracle Mile BID.
These are among the activities scheduled during the event, which runs 11 a.m. to 6 p.m.:
Guided Bike Tour (starting at noon) for $10 per person.
11 a.m. kickoff with free T-shirts at the stage at Miracle Mile and LeJeune.
Antique Bike Show.
Live music from Nil Lara, Bob Bonnen and Oriente.
Scavenger hunt.
Fresh produce at the farmer's market.
Restaurant, retail, nonprofit and wellness exhibits.
Learn about bike safety for kids at the UM BikeSafe rodeo.
Bounce houses and arts & crafts for kids
For more information on Gables Bike Day, follow the event on Facebook.