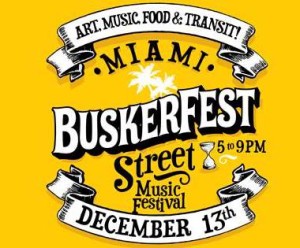 South Florida bands will perform from 5 to 9 p.m. Friday, Dec. 13, at all eight of the downtown inner loop Metromover stations during the free downtown Miami Buskerfest street music festival. Since Metromover is free, you can easily move from performance to performance.
Organizers will provide listeners with a free "passport," and you can collect stamps to enter the closing raffle. Sparky's Roadside Barbecue will offer $5 microbrews to attendees.
At 9 p.m., the music will move to Bayfront Park at the Tina Hills Pavilion, where the Spam Allstars will close out the night with a free concert.