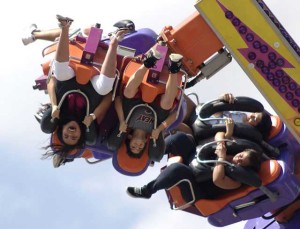 The Miami-Dade County Fair & Exposition is offering many ways to get free admission this year.
SUNDAY FunDays Sunday, March 17, 24, and 31:
FREE admission to The Youth Fair every Sunday for youngsters 6-12 years of age with a paid admission and special free kid's coupon available at fairexpo.com.
GIRL SCOUTS DAY Wednesday, March 27:
FREE admission for Girls Scouts dressed in uniform and presenting the special Girl Scout coupon available at Fairexpo.com.
All Day, Every Day at The Youth Fair:
Youngsters 5 years of age and under are admitted FREE everyday, all day and no coupon is required.
The Youth Fair offers FREE parking.
The Youth Fair is located on Coral Way (SW 24th St.) at 112th Ave. Gates open on weekdays at 3 p.m., Saturdays & Sundays at 12 p.m. and at 12 p.m. during Spring Break, which takes place March 22 – 29.
The Youth Fair takes place March 14-31.  For more information, visit www.fairexpo.com or call (305) 223-7060.