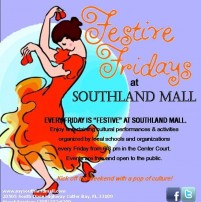 Southland Mall is presenting free "Festive Friday" performances and interactive experiences every Friday from 6 to 8 p.m. in the Center Court.
Here's the schedule of events for January:
Feb. 6: National Karate's Team Shendo performs their most popular routines.
Feb. 13: Mariachi Voces de America sing classic Spanish love songs in honor of Valentine's Day and they're taking requests.
Feb. 20: The Greater Miami Youth Symphony string quartet performs both classical and modern music.
Feb. 27: Hipnotic Dance Studio, led by international belly dancer Shayna Lee, put on their best hip shaking moves.
Southland Mall is on U.S. 1 and Southwest 205th Street in Cutler Bay.
Tell Your Friends