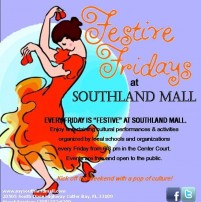 Southland Mall invites the public for free "Festive Fridays," showcasing the talents of local musicians, dancers and artists as well as hands-on activities and interactive experiences for the entire family every Friday from 6 to 8 p.m. in the Center Court.
The current schedule is:
Oct. 14: The student groups of Genesis Ju-Jitsu bring their skills to the stage. Performances include cheerleading, randori jiu-jitsu, and their new contemporary dance team.
Oct. 21: Frost Science lights up the night with a "Science in the Dark" show.
Oct. 28: Kick off the Halloween weekend with Hipnotic Dance Studios as they bring to life your favorite Halloween characters.
Southland Mall is on South Dixie Highway and Southwest 205th Street in Cutler Bay.
When
Weekly on Friday @ 6:00 pm-8:00 pm (starting June 10, 2016)
Southland Mall
20505 S Dixie Hwy, , FL Opened: 1960 Hours: Open today · 10AM–9PM Phone:
Miami, FL 33189
(305) 235-8880