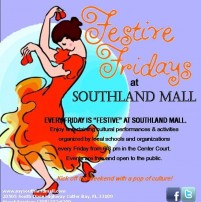 Southland Mall invites the public for free "Festive Fridays" event series, performances and interactive experiences every Friday from 6 to 8 p.m. in the Center Court.
The current schedule is:
July 8: The student groups of Genesis Ju-Jitsu bring their skills to the stage for cheerleading, randori jiu-jitsu, and dance.
July 15: Performers from Hipnotic Dance Studio will showcase their latest in belly dancing, gymnastics, ballet, salsa and hip-hop, gracing the stage to show the audience their best moves.
July 22: Cutler Bay Community Theater brings all the drama for a performance.
July 29: Coinciding with Kids Week, Davie's own Belles & Outlaws will perform an exclusive line dancing demonstration. Guests can learn to line-dance to hits at this one-time-only event.
Southland Mall is on South Dixie Highway and Southwest 205th Street in Cutler Bay.
When
Weekly on Friday @ 6:00 pm-8:00 pm (starting June 10, 2016)
Southland Mall
20505 S Dixie Hwy, , FL Opened: 1960 Hours: Open today · 10AM–9PM Phone:
Miami, FL 33189
(305) 235-8880