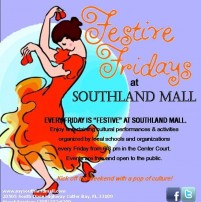 Southland Mall is presenting free "Festive Friday" performances and interactive experiences every Friday from 6 to 8 p.m. in the Center Court.
The June schedule is:
June 5: Art & Juice workshop with Raquel Torrent where kids 3-12 years old paint a masterpiece following her instructions. Painting materials supplied.
June 12: Performance by the Simone Says dance group.
June 19: Montessori School K-6 rock bands "The Cats," "Diamond Blue," "The Avengers" and "Paulina & The Rockers" perform.
June 26: Performance by the Hipnotic Dance Studio of belly dancing moves led by international belly dancer and studio CEO Shayna Lee.
Southland Mall is on U.S. 1 and Southwest 205th Street in Cutler Bay.
Tell Your Friends