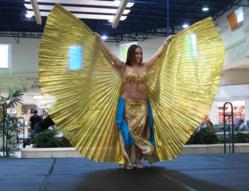 Southland Mall is presenting free "Festive Friday" performances and interactive experiences every Friday in July from 6 to 8 p.m. in the Center Court.
Here's the schedule of events:
July 5: "Art & Juice." The main stage will be transformed into an art studio where shoppers will be able to paint original artwork.
July 12: Join the "LA Style Salsa Dancers" from "A Party Hall" as they showcase their best salsa dance moves and offer mini salsa classes throughout the evening.
 July 19: Xpressit Dance Center will present a two-hour recital-style show. Dancers will perform their latest modern, jazz and hip hop dance routines.
July 26: To celebrate Kids Week at Southland Mall, Skindo Brazil Shows will present a one-hour performance by their Brazilian dance duo. Dancers from "Bellydancing by Shayna" will take the stage from 7 to 8 p.m.
Southland Mall is on U.S. 1 and Southwest 205th Street in Cutler Bay.