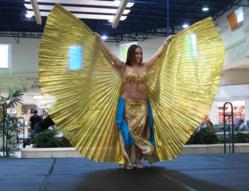 Southland Mall is presenting free "Festive Friday" performances and interactive experiences every Friday from 6 to 8 p.m. in the Center Court.
Here's the schedule of events for September to celebrate Hispanic Heritage Month:
Sept. 19: Artist Cecilia Paz, founder of MiamiArtBlog.com hosts a still life sketching workshop with charcoal while her mother Ana Paz, founder of Ana Paz Cakes provides samples for participants.
Sept. 26: Shayna Lee from the Hipnotic Dance Studio teaches audience members how to belly dance, dance salsa and hip hop.
Southland Mall is on U.S. 1 and Southwest 205th Street in Cutler Bay.