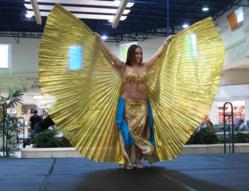 Southland Mall is presenting free "Festive Friday" performances and interactive experiences every Friday from 6 to 8 p.m. in the Center Court.
Here's the schedule of events for July:
  July 11: Raquel Torrent presents her popular "Art & Juice" workshop. Children can create their own art piece with Torrent's guidance.
  July 18: Performers from Hipnotic Dance Studio do belly dancing, salsa dancing and hip hop.
   July 25: Samba dancers from Ritmo! Brazil will give a two hour presentation of Brazilian rhythm and dance.
Southland Mall is on U.S. 1 and Southwest 205th Street in Cutler Bay.