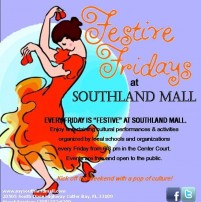 Southland Mall is presenting free "Festive Friday" performances and interactive experiences every Friday from 6 to 8 p.m. in the Center Court.
Here's the schedule of events for January:
Jan. 9: Art & Juice workshop with Raquel Torrent where kids use complimentary painting materials to create their own masterpiece.
Jan. 16: Performers from the Huney Shine Dance Studio present a jazz and hip hop performance.
Jan. 23: The Montessori School's student rock bands The Cats, Diamond Blue, The Avengers and Paulina & The Rockers perform.
Jan. 30: Hipnotic Dance Studio, led by international belly dancer Shayna Lee, put on their best hip shaking moves.
Southland Mall is on U.S. 1 and Southwest 205th Street in Cutler Bay.
Tell Your Friends