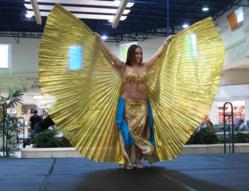 Southland Mall is presenting free "Festive Friday" performances and interactive experiences every Friday from 6 to 8 p.m. in the Center Court.
Here's the schedule of events for October:
 Oct. 3: Raquel Torrent presents the "Art & Juice" workshop, creating an art studio for children to paint their own works.
• Oct. 10: The National Karate's "Team Shendo" will perform kid-friendly routines.
• Oct. 17: Marc Enriquez and the Miami STICKFIGHTER Club will teach self-defense tactics.
• Oct. 24: Dancers from Huney Shine Dance Studio will perform jazz and hip-hop.
• Oct. 31: Performers from Hipnotic Dance Studio host a Halloween-themed show that includes belly dancing, salsa and hip-hop.
Southland Mall is on U.S. 1 and Southwest 205th Street in Cutler Bay.