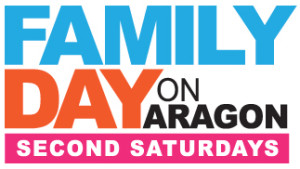 Family Day on Aragon is the second Saturday of the month in Coral Gables. That means discount movies at the Coral Gables Art Cinema in the mornings and free admission plus family arts and crafts at the  Coral Gables Museum in the afternoon.
At 10 .m. at Books and Books, 4-year-old author Christopher Isaiah Penn Smith will read from his book Guess Who Mr. Dinosaur.
The Coral Gables Cinema will screen classic children's short films, from Porky Pig to Abbott and Costello, at 11 a.m. Saturday, Feb. 8, and Sunday, Feb. 9. Tickets are $6.50 for children under 12 and$7.50 for those 12 older, with free popcorn. The Coral Gables Cinema is at 260 Aragon Ave., Coral Gables, 33134.
The Coral Gables Museum will feature free arts and crafts and free admission from 2 p.m. to 4 p.m. Saturday. Kids will learn about bike safety and digital animation. At 2 p.m., there will be an interactive presentation by guests from ARTcycle, FarmToonz & Andy Toonz Studios, and at 3  p.m. there will be a free concert by Coral Gables Music Club scholarship students.
The Coral Gables Museum is at 285 Aragon Ave., Coral Gables, 33134.