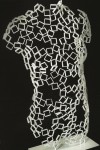 As part of Art Basel 2012 and Miami Art Week, Etra Fine Art in Miami's Design District, presents a free "Winter Group Show" exhibiting the works of: Rainer Lagemann, Christian Awe, Douglass Freed, Hunt Slonem, and Mario Velez.  The free opening reception takes place on Saturday, December 8, from 7 p.m. to 10 p.m. and the exhibit runs through January 11, 2013.
Encapsulating the spirit of Miami, this exhibit represents a microcosm of the variety of art presented to us at the peak of art season.
The hollow, metal squares that Rainer Lagemann (Germany) uses to sculpt the human form – a framework of the spirit and image of the body.
The "resurrection of color" that restores emotional drama to abstraction found in Christian Awe's (Berlin) paintings.
Landscapes by Douglass Freed (US) who names his paintings "structures" where shapes are fitted together to create a coherent whole.
Works of internationally renowned American artist Hunt Slonem who experiments with a unique method of cross-hatching to texturize his works.
Colombian artist Mario Velez, a minimalist artist who has been greatly inspired by the Bauhaus approach to design.
Gallery Hours: Tuesday to Saturday, 10 a.m. to 6 p.m. Other hours available by appointment. Click here for the Facebook Event Page.
For more information email Stefano@etrafineart.com or visit www.etrafineart.com.
Etra Fine Art, 50 NE 40 St., Miami, 33137. Tel: (305) 438-4383
Tell Your Friends