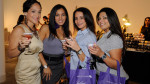 Spend an entertaining evening with your girlfriends at Sassy City Chicks' third annual Chicks Night Out event on Thursday, Oct. 4 at 5 p.m. at  Miami Event Space. GoldStar is offering a discount to the event. GoldStar discount price: $12.50, plus $4 in service fees. Regular Price: $25.
You'll enjoy cocktails from Godiva Liqueur, drinks from SmartWater, spa services and receive discounts on fall apparel and accessories from a select group of Miami-based designers, high-end boutiques and local artisans.
You will also be offered a pampering experience in the newly expanded spa lounge, hosted by salons in the area. Plus, you'll receive a functional reusable goody bag filled with girly swag.
Miami Event Space, between NE 76th St and 77th St (7610 NE 4 CTMiami, FL 33138)