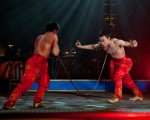 Ringling Bros. and Barnum & Bailey's Dragon is offering a discount code to its show at the AmericanAirlines Arena.
Honoring the Year of the Dragon, circus performers will showcase acts of bravery and athleticism. The show runs from January 10- January 21. Ticket prices range from $16 to $100.
I am taking my kids show although I am probably more excited about seeing the performances than them. Acts include Shaolin Kung Fu Warriors, Cossack riders, Asian elephants and tigers to the frenzied Globe of Steel.
Get $15 tickets to the show buy using the promo code FAMILYBLOG at Ticketmaster online or by calling 1-800-745-3000. Ticket offer is not valid on Circus Celebrity, Front Row, or VIP seating. Additional charges may apply. Valid on all performances except opening night. No double discounts.
As an alternative, you can buy discount tickets for up to 35% off with this deal we found. See which one works best for the show you want to attend and the tickets you want to buy.
Ticket holders can arrive one-hour for the  All-Access Preshow. Families can join Preshow Host Andre McClain and participate in interactive experiences such as learning juggling and balancing skills, get performer autographs, see one of Ringling Bros. majestic Asian elephant's paint a one-of-a-kind masterpiece and meet the Ringling Bros. clowns.
AmericanAirlines Arena, 601 Biscayne Boulevard, Miami, 33132
Tell Your Friends