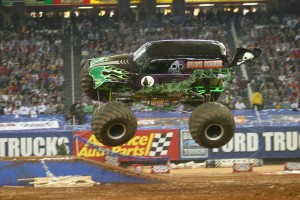 We've found discount tickets to Advance Auto Parts Monster Jam, the world's largest monster truck tour. The show comes to BankAtlantic Center on Friday, Aug. 16, and Saturday, Aug. 17, for major car-crushing action and one-of-a-kind racing. With a deal from ScoreBig, you can save up to 35% off tickets.
Grave Digger, Monster Mutt, Max-D, El Diablo, Monster Energy and Gun Slinger are scheduled to tear up the track with stunts, racing, freestyle competition and motor sports action.
BankAtlantic Center is located at One Panther Parkway Sunrise.
The average buyer is getting 10% off tickets to Advance Auto Parts Monster Jam from ScoreBig, but we have two promo codes that could get you an even better deal:
CHEAP35OFF gives you a minimum of 35% off face value. Use this one if tickets are going for 10% off.
CHEAP15 gives you an additional 15% off at checkout. So, if tickets are going for 50% off, this is the best code to use.
Both promo codes are good only for new customers on orders up to $300.
Here's how ScoreBig works:
Sign up (it's FREE).
Select the event you want and where you want to sit (sometimes it takes a few minutes for the available seating areas to be highlighted). You choose a section, but not the exact site.
Name how much you are willing to pay. You'll have to enter your credit card information here. This is where you add the CHEAP35OFF promo code. If you have a promo code for 35% off, bid 35% off.
If your bid is accepted, you're notified instantly. If your bid is rejected, you can place a new bid.
Sometimes you'll get a counter offer, which you are free to accept or reject.
No additional fees are added. The amount of your accepted offer is what you pay.
Get discount tickets for Advance Auto parks Monster Jam here.
See all the Miami and South Florida deals from ScoreBig here.
You can also get coupons for $5 off tickets to Monster Jam at participating Metro PCS stores.