Pinecrest Gardens presents a festival and gift bazaar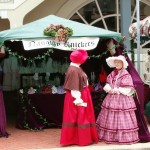 celebrating the works of Charles Dickens.
There will be shopping, food, musical entertainment, theatrical performances and more.
It all happens on Sunday, Dec. 5, from 10 a.m. to 6 p.m. Admission is $5; children younger than 5 get in free.
Pinecrest Gardens is at 11000 Red Rd. in Pinecrest.