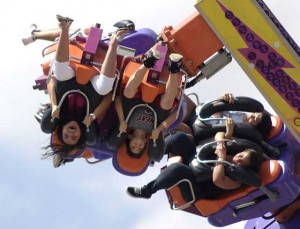 Print out these coupons and save $4 on admission to the Miami-Dade County Youth Fair Monday through Thursday through March 30, 2014. You need one coupon for each person. The coupons are not valid on opening day, March 13. The Fair, runs through March 30. Coupons are available for Miami-Dade County Public Library card-holders, the military, Miami-Dade County employees, teachers and PTA members.
Anyone can get a coupon for 50% off, meaning admission is $6 instead of $12, Monday through Friday before 5 p.m. Click here for all the Miami-Dade Fair coupons and discounts.
We found these other Miami-Dade Fair deals, discounts and coupons. No coupon is required but you must pay your ticket at the Main Gate ticket both for these discounts:
$5 admission on opening day, March 13. Students wearing a school uniform with a logo are admitted free on opening day. If you pay advance tickets at Sedano's, you can get 2-for-1 admission on opening day.
$4 off admission when you bring two cans of food to the designated tent area. Valid March 14-30.
$4 off on Sunday, March 16, when you wear your Miami Dolphins shirt
Free admission for Girl Scouts and Boys Scouts in uniform on Wednesday, March 26.
$6 before 6 p.m. deals on concessions and games.
The Fair opens at 3 p.m. weekdays and at noon on weekends. It will also open at noon during Spring Break, March 21-30.
General admission is $12. Children 5 and older and people 56 and older are admitted free.
The fair is at the Miami-Dade County Fair & Exposition Center, 10901 Coral Way (SW 24th Street).
Tell Your Friends