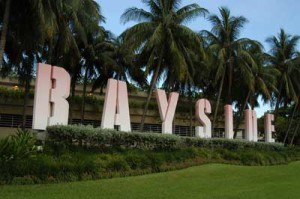 Come to Bayside Marketplace at 401 Biscayne Blvd. on Tuesday, Dec. 31, to enjoy the many New Year's Eve festivities they've got planned. The fun begin at 2 p.m. and continues until midnight.
Enjoy live music and entertainment while awaiting the fireworks display at midnight. It's also the perfect view of the iconic Big Orange, as it slowly ascends 400 feet to the top of the InterContinental Hotel to ring in the New Year at the stroke of midnight.
This year, Bayside will be home to Miamigo TV, the official Miami New Year's Eve live webcast, allowing partygoers to watch webcasts of celebrations around the world. Spanish Broadcasting Systems will produce four hours of entertainment on Bayside's Bandstand of the Americas stage, which will feature international recording artists, including Henry Santos "El Rey de la Pista," along with the first Latin group to perform at the Big Orange, Oro Solida.
The Bayside Marina stage will feature performances by Maria Con Azuca and Eclipse.   For the evening's grand finale at midnight, spectators will be treated to a tropical fireworks show presented on Biscayne Bay.
Call 305-577-3344 for more information.