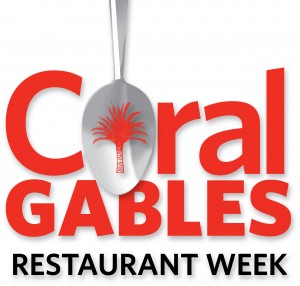 More than 35 restaurants are offering specially priced three-course lunch and dinner menus with a discount of at least 20% during Coral Gables Restaurant Week, which is actually three weeks, June 10-30.
Participants include not just expensive restaurants but more affordable options such as California Pizza Kitchen, Sushi Maki and The Cafe at Books & Books.
Other participants include Anacapri on Ponce, Angelique Euro Cafe, Azucar Cuban Cuisine, Benihana, Bread + Butter Counter, Bulla Gastrobar, Caffe Abbracci, Caffe Vialetto, Castelluccio Ristorante, Christy's Restaurant, Cibo Wine Bar, Fleming's Prime Steakhouse & Wine Bar, Fritz & Franz Bierhaus, John Martin's Irish Pub & Restaurant,  La Dorada, La Taberna Giralda, Le Provencal, Morton's The Steakhouse, Ortanique on the Mile, Red Koi Thai & Sushi Lounge, Randazzo's Little Italy, Ruth's Chris Steakhouse, Seasons 52,  Spris, Sushi Maki, Sushi Samba, Swine Southern Table & Bar, Talavera Cocina Mexicana, Tarpon Bend Raw Bar & Grill, The Dome, The Globe, and The Local.
Advance reservations are recommended, and you can reserve online.
Some Coral Gables businesses are offering their own discounts during Restaurant Week.