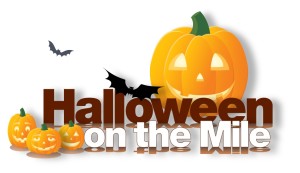 Halloween on the Mile in Coral Gables is back for its 16th year, with trick-or-treating and more free fun for families and their canine companions. The free festivities will be 4 p.m. to 7 p.m. on Thursday, Oct. 31, 2013.
Events will include:
4 to 7 p.m. Trick or treating.
4 p.m. Story time at Books and Books, 265 Aragon Ave.
4:30 p.m. Performances by the Young Talent Big Dreams All Stars presented by Actors' Playhouse and The Children's Trust at the Miracle Theatre, 280 Miracle Mile.
5 p.m. Kiddie Costume Contest at the Miracle Theatre (limited to first 100 kids who arrive), 280 Miracle Mile.
6 p.m. Doggie Costume Contest at the Coral Gables Museum, 285 Aragon Ave.
You can check out parking options here.
For those over 5, the Coral Gables Youth Center will play host to the Nightmare at 405 Haunted House from 6:30 to 10 p.m. at the War Memorial Youth Center, 405 University Drive. Admission is$4 per person. For information, call 305-460-5600.