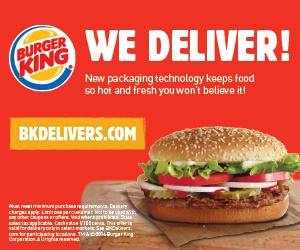 Burger King would like for you to try its new delivery service, and the restaurant is offering an incentive: coupons.
If you order Burger King food delivered, you get a choice of two freebies (you need to create an account to use the promo codes):
You can get a Free Large Classic French Fries with promo code BKFRIES.
You can get a Free Original Chicken Sandwich with promo code BKCHICKEN.
Perhaps you want to organize the office lunch order and be rewarded for your effort. Delivery requires a minimum order of $10, and there is a $2 delivery fee. These delivery freebies are valid through June 30.
Not all Burger King delivers, but quite a few in Miami-Dade offer the service. Find a Burger King that offers delivery here
Tell Your Friends