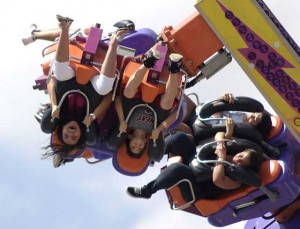 In celebration of Black Friday and Cyber Monday, the Miami-Dade County Youth Fair & Exposition is offering up to $22 off a visit to The Fair, which will be March 12 through April 5, 2015.
For just $25, you can get a package that includes one 2015 Youth Fair admission ticket and one P*O*P (Pay One Price) ticket for unlimited rides. The P*O*P Ride Cards are valid any day, including on weekends.
To get the deal, you need to order online before 11:59 p.m. Monday, Dec. 1.
Last year's Youth Fair price was $12 for admission, $25 for P*O*P Ride Card weekdays and $35 for P*O*P Ride Card on weekends.  Youngsters 5 and under and seniors 65 years and older get free admission.
For more information, visit www.fairexpo.com or call 305-223-7060.
Tell Your Friends