Drinks are better when they're half-price. Here's our list of Miami's 10 best happy hours.
Who doesn't love a good happy hour with good energy, cheap eats and cheap drinks? Here is a list of our favorite happy hour spots:
Area 31, Epic Hotel, 270 Biscayne Blvd Way, Miami 305.424.5234
Happy Hour: Mon-Tues, 5-7 pm; Wed-Fri, 5-10 pm
If you are looking for a sexy vibe and a gorgeous view of the Brickell area, you must check out Area 31 at Epic. Located on the 16th floor, you will enjoy the light breeze. During Happy Hour, enjoy the $5 drink menu (your choice of select beer, wine or well cocktails and the bar bites menu, with shrimp ceviche, herbed goat cheese croquettes and crispy coffee spiced chicken thighs —  all priced at $6. While happy hour takes place on Monday and Tuesday from 5-7 pm, on Wednesday through Friday,  the deal gets even better, as Area 31 offers extended happy hour prices from 5-10 pm in the bar & lounge areas.
Bar Louie, 3201 N Miami Ave, Miami (786) 879-8260
Happy Hour: Mon-Fri from 4-7 pm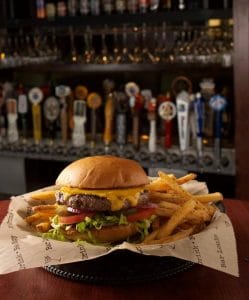 For a casual hangout, perfect for watching your favorite game, Bar Louie offers a line-up that will please everyone. Happy Hour is offered Monday through Friday from 4-7 pm. Specials include $3 drafts, $4 wines, $5 martinis and 50% off select appetizers and flatbreads. In addition to Bar Louie's weekly happy hour specials, you'll find more specials throughout the week like Tuesday Burger Nights where burgers are priced at just $1 from 5-close and on Wednesday, domestic drafts are available for $1 and martinis are $5.
Brother Jimmy's BBQ, 900 S. Miami Ave, Miami; (786) 360-3650
Happy Hour: Mon-Fri, 3-7 pm
"Put Some South in Yo' Mouth" at Brother Jimmy's BBQ. Known for their North Carolina, slow-smokin' barbecue, Brother Jimmy's offers a energetic atmosphere for watching your favorite team, gathering with friends and indulging in your favorite southern treats. Stop by Brother Jimmy's on Monday through Friday from 3-7 pm, and enjoy $2 drafts, $3 well drinks and 50% off appetizers. For all of the late night diners, Brother Jimmy's offer a reverse happy hour on Tuesdays and Saturday from 10 pm until midnight, where the same happy hour specials are offered.
EDGE Steak & Bar at Four Seasons Hotel Miami, 1435 Brickell Ave, Miami; (305) 381-3190
Happy Hour: Everyday from 4-7pm
EDGE Steak & Bar, known for their local & seasonal menu, offers a great happy hour in a hip & sophisticated environment — where you'll enjoy high quality ingredients without paying the high prices. Everyday from 4:00-7:00 p.m., happy hour-goers will enjoy 2-for-1 small bites from the bar menu, $1 oysters and 50% off draft beer, select cocktails and a rotating selection of wines.
Meat Market, 915 Lincoln Rd, Miami Beach; (305) 532-0088
Happy Hour: Friday from 5pm – 8pm
Kick off your weekend with a trip to Meat Market on Lincoln Road. This sexy, hotspot offers a modern take on a traditional steakhouse with a sumptuous menu created by Chef Sean Bernal. While Meat Market doesn't offer a happy hour everyday of the week, it does offer one on Friday evenings that's worth waiting for all week. From 5pm – 8pm, guests will enjoy complimentary lights bites — and a variety of drink specials like $7 select wines, $7 select premium cocktails, 50% off beer and $9 ceviche.
Morton's The Steakhouse, locations in Coral Gables, Miami, Miami Beach and North Miami Beach
Happy Hour: Monday-Friday 4:30pm-6:30pm & 9pm-Close & Sunday Open-6:30pm & 9pm-Close (not available in North Miami Beach on Sundays).
While a visit to Morton's can put a huge dent in your last paycheck, a visit does not need to ruin your budget if you plan it right. Instead of indulging in a juicy steak in the main dining room, why not take part in their Power Hour, available from open until 6:30 p.m. and from 9:00 p.m.-close. While both food and drink specials will have you smiling — $5.50 for beer (Sam Adams, Budweiser or Bud Light), $7 for select wine, and $8 for select martinis and cocktails. To coat your stomach, you'll want to nibble on some bar bites. We highly suggest the Mini Crab Cake BLT's, Tuna Tacos, the Spinach Crab & Artichoke Dip or the 3 Prime Cheeseburgers — all priced between $6-7.
RA Sushi, 5829 SW 73rd St, Miami 305-341-0092
Happy Hour: 3-7pm, M-Sat and 10pm-midnight, M-Th
It's a party in the RA at RA Sushi 6 days a week. During this time, you will enjoy some incredible food and drink specials like $3.75 hot sake, $4.75  Sapporo, $5.75 for select cocktails, $6.75 for wine and more. If getting a bite to eat is more of what you are after, you will enjoy the specials on select sushi, appetizers and tapas like Viva Las Vegas Rolls; Shishito Peppers; Spicy Chicken Wings; Seared Tuna; and more (priced between $2.75-$7.75)
River Oyster Bar, 650 South Miami Ave, Miami 305.530.1915
Happy Hour: 4:30-7:00 pm, M-Sat
Groups flock to the River Oyster Bar to take advantage of their happy hour specials, offered M-Sat from 4:30 – 7:00 pm. During this time, you will enjoy oysters for half-price and a variety of changing drink specials.
SUGARCANE Raw Bar Grill, 3250 NE 1st Ave, Miami 786.369.0353
Happy Hour: 4-7 pm, M-F (in the bar area only)
For a hip happy hour during the week, visit Sugarcane Raw Bar Grill. Home to Timon Balloo, SUGARCANE features a creative menu of internationally-inspired small plates, a raw bar and items from the robata grill. If the restaurants wasn't hot enough by itself, imagine what a happy hour adds to the vibe — and, SUGARCANE's is fabulous. From 4-7 pm, Monday-Friday, guests will enjoy snacks for bargain prices like Marinated Olives or Edamame ($3), American Wagyu Sliders ($5), Shrimp Tempura Sushi Rolls ($6) and Octopus aji Panca ($7). The deals on your favorite liquid beverages are just as tempting — select wine, beer and specialty cocktails are just $7 , pitchers of sangria are $25 and a mojito pitcher is $35.
The Oceanaire Seafood Room, 900 S Miami Ave, Miami; (305) 372-8862
Happy Hour: 4-close Sun-Fri in the bar and patio areas only
If you're craving fresh seafood in a chic setting, Oceanaire should be at the top of your list. This favorite among visitors and locals alike offers an ever-changing menu featuring the freshest seafood available. While dining in the main dining room is always a fantastic experience, sometimes you just want a casual night out with friends. Visit Oceanaire during happy hour (Sun-Fri, 4 pm until close in the bar and patio areas) and take advantage of some incredible specials. Enjoy Blackened Fish Tacos, Tequila Fish Ceviche, Steamed Mussels or Shrimp & Grits all priced between $5-7 and drink specials (bottled beer, wine, specialty drink or martinis) for $4-7.
Updated January 2014
Female and looking for places to drink free? Here are the best Miami Ladies' Nights with free drinks for women.
Find more Miami happy hour deals.
Tell Your Friends