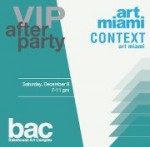 Bakehouse Art Complex is hosting a VIP after-party for Art Miami and CONTEXT Art Miami on Saturday, December 8, 7-11 p.m. $10 Admission; free for BAC Members, Art Miami and CONTEXT Art Miami VIP card holders/exhibitors.
BAC Artists' studios will be open along with two exhibitions on view.
Enjoy Becks Pilsner, Jordan Wine, and Arizona Lemon Fizz along with entertainment by DJ V and Leo Casino.
RSVP on their Facebook event page
Bakehouse Art Complex,561 NW 32ND ST, Miami, 33127. Tel: ( 305) 576-2828.
Tell Your Friends