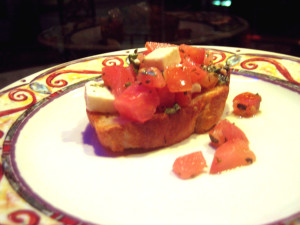 Café Prima Pasta is celebrating its love for garlic with $4.19 specials on Friday, April 19, for National Garlic Day.
The three garlic-infused appetizers are the Bruschetta, Italian bread topped with chopped vine-ripened tomatoes, basil and garlic (originally $9.95); Calamaretti Fritti, fresh calamari fried in a mixture of Italian bread crumbs and roasted garlic (originally $12.95) and Spinach Sautee, baby spinach sautéed in garlic served over cannellini beans (originally $9.95).
Repellent vampire cocktails will also be available for $4.19, including the Baby Prima Martini, Dracula Red Bloody Mary, Vampire Vodka Surprise and Chef Arturo's favorite Pinot Noir.
From Gerry Cea, the manager of the family restaurant business:
A little secret; 15 minutes before we open, I take a sizzling hot skillet of sautéed garlic out into the dining room and splash in some Italian white wine letting off an explosion of garlic goodness to fill the air. In addition to being part of our restaurant's ambiance, the smell serves as a prelude to the handmade specialty pastas, fresh breads and desserts we prepare to order each day.
The restaurant has a special discount menu from 5 p.m. to 6 p.m. every day (4 p.m to 6 p.m. Sundays) and a seven-hour happy from 5 p.m. to midnight Thursdays that includes six L'Chaim martinis and six authentic Italian dishes priced at $6.69 each. The Cocktail Culture Series, in the bar area only, also includes a pop-up cultural experiences spanning art, cinema, fashion, music, mixology and gastronomy.
Café Prima Pasta is at 414 71st Street, Miami Beach, FL. Phone: 305-867-0106.