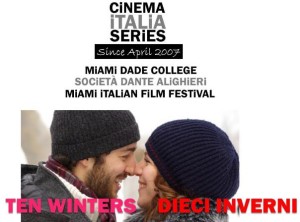 The Tower Theater's Cinema Italian series is coming back, at least for January, with a free Italian film. If you can afford it, the program asks for a $3 donation.
This week's film, at 7 p.m. Thursday, Jan 23, is "10 Winters" (Diece Inverni), a 2009 romantic comedy-drama by Valerio Mieli, starring Isabella Ragonese, Michele Riondino, Glen Blackhall and Sergei Zhigunov. It will be shown in Italian with English subtitles.
Because the Tower is closed for renovation, the film will be at the MDCulture Art Cinema at the Koubek Theater at Miami Dade College, 2705 SW 3rd St., Miami, FL 33135.